Peppertree Rescue
PO Box 2396
Albany NY 12220-0396
(518) 435-7425
Magdalina
French Bulldog/Pug/Gremlin mix,
female,
8 years,
20 lbs.
Magdalina Conchetta Wrinkles, or Maggie to friends and family, packs a lot of personality into her 20 lb frame. Her foster family firmly blames themselves for her occasional possessiveness, they not only fed her after midnight, they got her wet. Maggie is an expert snuggler, and is excellent at camouflaging in a pile of blankets (you learn to watch where you sit!) We are not going to lie, she has a list of health
issues, dry eye has left her blind in one eye with limited vision in the other, and requires daily drops, she has a fused elbow which gives her an adorable skip to her step, back pain and skin issues – but she certainly doesn't let it get to her and is a wonderful patient. Mags has good house manners, she is not destructive, but she is still working on house training. Because of her vision and orthopedic issues, a house without stairs or an owner who can carry her up and down stairs is required, as is a fenced yard, and she would not do well with young children. She does very well with cats and respectful dogs of all sizes. Magdalina's perfect day involves lots of time on the couch, a goat horn or bully stick to chew, lots of treats, and lots of love.
Aimee
Lab mix,
female,
6 years,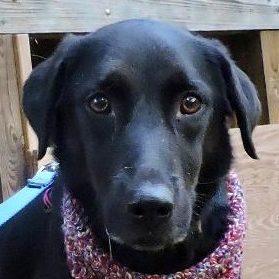 45 lbs.
Whoever said diamonds are a girl's best friend clearly never met Aimee! Aimee and her sister Sheva were surrendered to one of our partner shelters when their owner could no longer care for them. Aimee was very shy when she arrived, but has blossomed in her foster home where she is adored. She is excellent with all of the dogs in her foster home, though big dogs sometimes intimidate her. Aimee is an extremely easy, quiet house guest who is housebroken and loves to chill near her people. She is fine when left during the day and does not need to be crated.  She loves to go on walks and is great on the leash. Aimee will need a securely fenced yard and a canine companion to boost her confidence. She is timid around men, and she will not be placed with children because of her initial shyness. She has not been tested with cats.  Aimee is a very sweet girl who will make someone a wonderful companion.