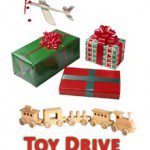 by Sandy McBride
Christmas is coming, and coming soon!  For many families, providing a memorable Christmas for the kids can be a problem in these often difficult economic times.  Here in 2012, the Red Knights International Firefighters Motorcycle Club of Wilton, New York embarked on the "Give a Child Christmas" toy run for their 14th consecutive year.  Although the motorcycle run itself was held on October 14, their mission is ongoing and they are asking for your help.
A local drop box for toys has been placed in the Connors Agency office on Central Avenue in Mechanicville.
Candy Merchant, secretary of our area's Chapter 12 of RKIFMC, says "We help working families that fall through the cracks and are having a hard time managing to try to give the kids anything."
Red Knights is an international organization composed exclusively of firefighters who are dedicated to promoting motorcycle safety and fellowship among firefighters who ride motorcycles. Originally formed in Northboro, MA in 1982, the organization has grown by leaps and bounds to include chapters in 43 states, the District of Columbia, seven Canadian provinces and five foreign countries.
Gifts of toys for the children can be left in the drop box at the Connors Agency during working hours, or monetary contributions to help fund this very worthy project can be mailed to Jim Alexander at 12 Northwest Pass in Ballston Lake, NY 12019.