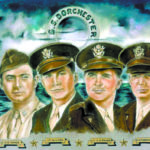 Page 3 of the 02/08 Express.
Page 7 of the 06/30 issue.
MECHANICVILLE FEBRUARY 7- The heroism of the " Four Chaplains " was remembered Saturday morning at Post 91. Congressman Paul Tonko, a representative from Congressman Gibson's office and State Senator Marchione all spoke at this ceremony.
The entire article is in the February 19 edition.