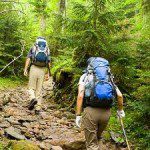 TOWN OF STILLWATER, November 15 – Town Supervisor Ed Kinowski put out a question for the future    of trails in the Town to participants in Thursday's Town Board meeting.
As the Town and County – indeed whole country as he said -- are more and more actively pursuing development of trails, the Supervisor floated the idea that perhaps it could be an incentive for the Town to offer some assessment credit to landowners who would be willing to allow a trail over or along some of their property.
An effort by a municipality to gain land for a trail – like any easement request – can be time consuming and expensive ... and sometimes become contentious. He suggested that a more creative and citizen-friendly approach would be to offer some  assessment credit on what little square footage of land might be sought, and the transaction could become one in which owners who are approached can feel that they are being  invited to be a positive part of something for the community. "We've been trying to pursue trails within our town.
To read more login to The Weekly Paper