Bentley is a 3-year old neutered male Pomeranian, who is up to date on his shots and micro-chipped. He likes to ride in the car and is good with older children and other small dogs, though he does not seem to be fond of cats. Bentley is house trained and walks well on a leash.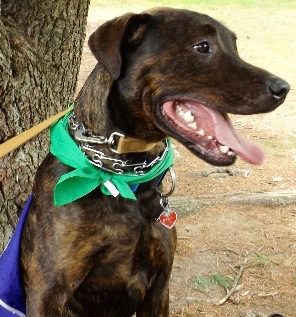 BUCKLEY (H.O.P.E. courtesy post) Neutered male, DOB: 06/17/2011, Breed: 1/2 Pit Bull & 1/2 Rottie, Weight: approximately 75 pounds BUCKLEY gets along with most dogs and likes kids. He likes cats, but they tend to be afraid of him. He does jump so we limit him to bigger kids. He gets very excited and needs some time to calm down when someone new comes around. He's eager to please and tries very hard to do the right things. He's very big and can be a little clumsy sometimes. He loves to go to creeks, especially the one at the Route 50 SPAC entrance. He loves to run at the dog park in Ballston Spa.
He's been to the Farmer's Market and did really well there with the people and dogs. He's been to downtown Saratoga also and does well. He loves attention and thinks he's a lap dog! He's very protective and barks at anyone who comes near his "home" until we let them get closer. He's a very energetic walker and will keep you at a good pace. We do use a prong collar with him because we have a lot of wild rabbits around and he will try to chase them. I love the big lug, but it hasn't been fair to him. We can't let him play with our older dog anymore because of her hips and they're both dying to play. Contact Patti at 518-368-2374 for more info.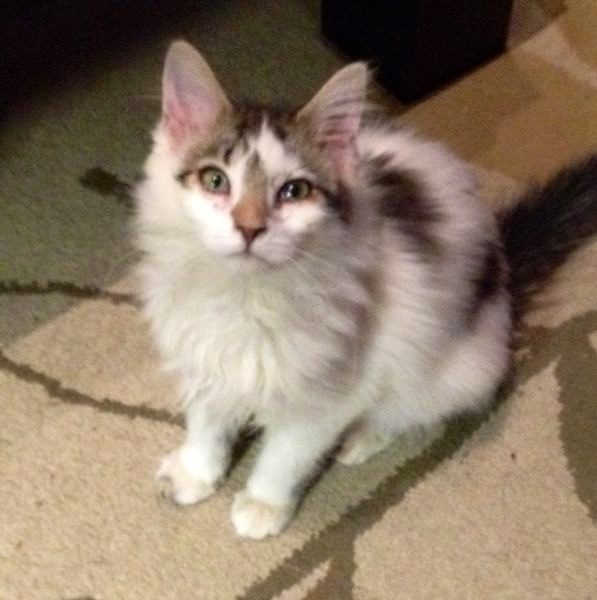 Lilith is a 3-month old long haired white, brown, and gray tiger female kitten. She loves to play, carrying her toys around the house and then leaving them on your bed. After a busy day, she'll snuggle right up next to you to sleep at night. Lilith came from a feral cat colony and still can be a bit shy. She needs a special someone that will be patient with her, allowing her to take her time trusting you. She likes to make friends with any animal she comes in contact with: dogs and cats.
Kalhi is a 3-year old, grey and white, one-of-a-kind type of cat. She loves people and any attention she can get from her humans as well as other cats or dogs. She has many toes that make her look as though she has a hand: fingers and a thumb!
For more info on Bentley, Lilith & Kalhi, contact H.O.P.E. @ 518.428.2994. For online adoption applications, foster program & low cost spay or neuter info, visit us online @ www.hopeanimalrescue.org
"Let Them Know There Is H.O.P.E"